Connection Module Cat. 6A, 1xRJ45/u, 10x (R509500)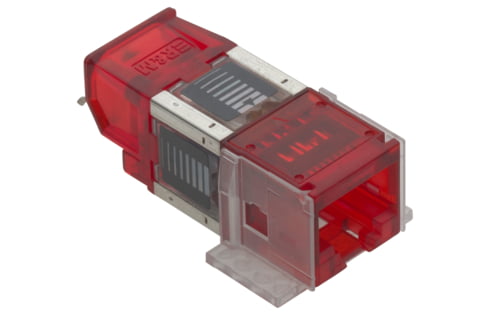 Connection Module Cat. 6A, 1xRJ45/u, 10x (R509500)
The module for the highest standards. Guarantees the best performance reserves for 10G Ethernet cabling and beyond.
The R&M

freenet

Cat. 6
A
unshielded connection modules, part of the Advanced cabling system, are ideal for voice, fast data transmissions and high bandwidth applications. This high-performance Cat. 6
Amodule is perfect for use in 10 Gigabit Ethernet (10GBASE-T) and future high-speed applications to 500 MHz.
Scope of supply
RJ45 Cat. 6
AISO connection module, unshielded

Mountingplate

Dust cover

Cable tie

Installation instructions
Category connector (A)

Cat. 6A ISO

Connector type (A)

RJ45

Shielding connector (A)

unshielded

PoE

Yes

Connector class

connection module

Wiring diagram

T568A and T568B

Holder for connector / module

Mounting plate

Poles

8

Standard

IEC 60603-7-41: Electrical Characteristics of the Telecommunication Outlets

UL Listed

ISO/IEC 11801

EN 50173-1
Copyright ©2022 Synergia SE. All Rights Reserved!