inteliPhy Monitor Netscale-72 Kit 72 ports (R855333)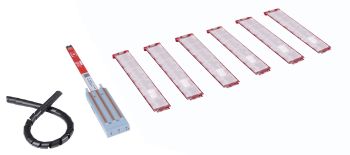 inteliPhy Monitor Netscale-72 Kit 72 ports (R855333)
Kit to upgrade Netscale 72 with inteliPhy Monitor technology.
Kit to upgrade a Netscale 72 chassis with inteliPhy Monitor technology.
Installation must be done before the rear cabling of Netscale 72 is done.
Installation requires the Netscale 72 trays to be turned upside-down.
Scope of supply
1 x Panel Control Unit (PCU)

6 x Sensorbar including contact set

1 x Spiral tube 350 mm to protect bus cable
Upgrade kit to add Automatic Infrastructure Management (AIM) functions to Netscale 72 panels.
Must be field-upgradeable without use of special tools.
Copyright ©2022 Synergia SE. All Rights Reserved!