MPO Modul HD, MTP12-female - 12xE-2000™, G.652.D, APC/PC, type A, gray (R515877)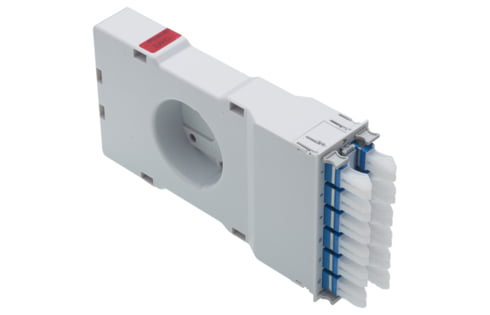 MPO Modul HD, MTP12-female - 12xE-2000™, G.652.D, APC/PC, type A, gray (R515877)
Designed for 19" 1U HD patch panel.
Connectivity method: type A.
Scope of supply
Slide-in unit, radius limiter radius 30 mm, labeling strips and installation instructions

Plastic front panel equipped with 12 x E-2000™ adapters and fan-outs inserted, rear side one MTP12-female connector mounted
Environmental Characteristics
| | |
| --- | --- |
| Operation temperature | 10 °C to 60 °C / +50 °F to +140 °F |
| | |
| --- | --- |
| Dimensions | 43.2 mm x 109.9 mm x 217.0 mm / 1.701 in x 4.327 in x 8.543 in (W x H x D) |
| Color Code NCS | S 2502-B |
| Material | plastic: PC, fiber-glass reinforced, halogen-free |
Conductor type FO

semi-tight buffer, dry

Fiber type

Singlemode (SM)

Fiber class

G.657.A1 (covers G.652.D, OS1, OS2)

Fiber diameter

n.a.

Number of connectors (A)

1

Number of connectors (B)

12

Connector type (A)

MTP12-female

Connector type (B)

E-2000™

Connector color (A)

black

Connector color (B)

blue

Lever- / frame-coding (B)

Color

Polishing plug (A)

APC 8°

Polishing plug (B)

PC

Protection class IP (A)

IP 20

Protection class IP (B)

IP 20

Return loss (RL)

≥ 45 dB

Insertion loss (IL) max. value

≤ 0.4 dB

Attenuation grade IL (A)

D

Wiring diagram

type A

Rack mounting version

slide-in unit

Adapter fastening method

end cap snap-in

Assembly

fully populated

Sleeve material

ceramic

Standard

MPO connectors acc. to IEC 61754-7-1 (MPO connector family - one fiber row)

UL Listed
MPO Modul HD front populated with 12 E-2000™ adapters (split sleeve ceramic), at the back mounted with one MTP12-female adapter (type A), with 12-faser fan-outs, SM 9 µm G.652.D/G.657.A1 (OS1, OS2), assembly class in acc. with IEC 61753-1; the wiring inside the module is straight, key up to key down (accordingto method A from standard TIA 568-C); geometrical specifications of MPO (MTP) connectors in acc. with IEC 61754-7; incl. radius limiter at radius 30 mm and hold-down cross, fully populated, plastic front panel featuring per-numbered ports, tool-free locking and unlocking system and offering individual labeling options.
Features:
Dimensions: 43.2 x 109.9 x 217 mm (W x H x D)
Material: module and front panel: plastic (PC, fiber-glass reinforced, halogen-free, UL 94 V-0)
Color: module and front panel: light gray (NCS 1005-R80B)
Copyright ©2023 Synergia SE. All Rights Reserved!