Netscale 72 Module MPO - LC-Duplex 6 ports OM5 Type S (R852220)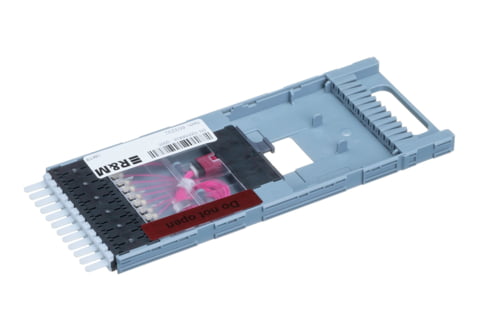 Netscale 72 Module MPO - LC-Duplex 6 ports OM5 Type S (R852220)
Netscale 72 MPO-to-LC modules provide the interface between the male MPO connectors on the trunk and the LC-Duplex patch cords that will then connect directly into the transceiver modules. It can either come as Base-12 or native Base-8 backbone type, containing six, four LC-Duplex ports respectively.
The LC-Duplex ports feature integrated laser shutters that move out of the way when the connector is inserted. The internal wiring of the module is based on universal polarity to ensure the correct fiber polarity while requiring just one type of patch cord on both ends of the link.
The crossover of the fibers for duplex signal transmission takes place within the module. The connectivity diagram for the trunk cable and patch cord remains the same all the time.
The MPO-to-LC modules are easily swappable with MPO cassettes to migrate to MPO ports for parallel optics.
| | |
| --- | --- |
| Color | gray |
| Color Code RAL | 7000 Squirrel gray |
| Material | Polycarbonate (PC), fiber-glass reinforced, halogen-free (UL 94 V-0) |
Fiber type

Multimode OM5

Number of connectors (A)

1

Connector color (A)

lime green

Polishing plug (A)

PC

Rack mounting version

Module fitting to Netscale 72 family of housing

Standard

IEC 61300-3-4

IEC 61300-3-6
Copyright ©2021 Synergia SE. All Rights Reserved!