Patch Cord Cat. 6, S/FTP, 4P, LSFRZH, red, RJ45/s-RJ45/s, 12.5 m (R806809)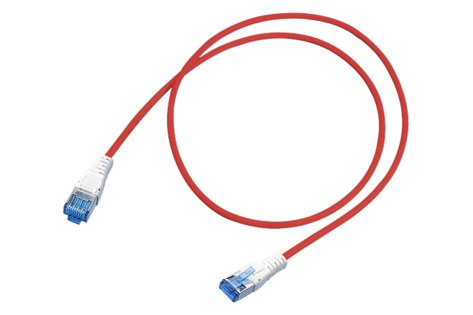 Patch Cord Cat. 6, S/FTP, 4P, LSFRZH, red, RJ45/s-RJ45/s, 12.5 m (R806809)
Cable identification: S/FTP
Outer jacket: LSFRZH
Conductor diameter copper strand: AWG 26/7
Screened in pairs: AL/foil
Overall screen: copper braid
Outer diameter: max. 6.2 mm
| | |
| --- | --- |
| Color Code RAL | 3018 Strawberry red |
| Cable length | 12.5 m |
Wire type

stranded wire

Number of wires

8

Cable type

Patch cord

Category

Real10 Cat. 6

Jacket material

LSFRZH

Cable jacket characteristics

Cable, metal-free

zero-halogen

flame retardant

Stranding

4 pairs

Wire diameter

AWG 26/7

Shielding

S/FTP

Cable overall diameter

6.2 mm

Category connector (A)

Real10 Cat. 6

Category connector (B)

Real10 Cat. 6

Connector type (A)

RJ45

Shielding connector (A)

shielded

Shielding connector (B)

shielded

PoE

Yes

Connector class

connector

Wiring diagram

TIA-568A

Standard

Compliant with Cat. 6 Class E (250 MHz) requirements: ISO/IEC 11801

Compliant with Cat. 6 component standard IEC 60603-7-4

Compliant with Cat. 6 component standard IEC 60603-7-5

Fulfilled the standard IEC 61935-2
Flexible cable, S/FTP, 4 x 2 x AWG26/7, LSFRZH,
3018 Strawberry red
. Low-smoke in acc. with IEC 61034, flame-retardant in acc. with IEC 60332-3C and halogen-free in acc. with IEC 60754-1. Halogen-free and heavy-metal free in acc. with EU directives RoHS 2.
Mounted on both sides with
RJ45 connector compliant with Cat. 6 component standard. Key standard: IEC 60603-7 RJ45 category 6; IEC 60603-7-1 to 5. Strain-relief function in acc. with TIA 568-C.
Complies with requirements ofCat. 6 for the establishing of transmission links of class E and class EA in acc. with ISO/IEC 11801 ed. 2.2, June 2011 and EN 50173-1, May 2011 (DIN EN 50173-1). Suitable for 10GBASE-T applications in acc. with IEEE 802.3™ Section Four.
Optional:
Visual coding, mechanical coding and lock protection.
Copyright ©2023 Synergia SE. All Rights Reserved!