Pigtail set E-2000™ PC, beige/turquoise, OM3, 12-colours, Am/2, 2.5m (R848877)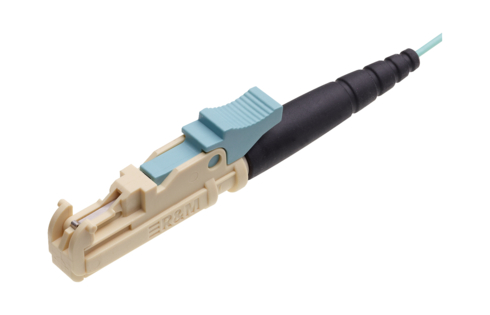 Pigtail set E-2000™ PC, beige/turquoise, OM3, 12-colours, Am/2, 2.5m (R848877)
Semi-tight buffer Ø 0.9 mm with a strippability of more than 150cm and one side fitted with E-2000™ connector. Connector E-2000™ with self-closing dust- and laser shutter
Scope of supply
Set of Pigtails in 12 different colors yellow, green, blue, red, black, orange, grey, turquoise, pink, brown, violet and white, semi-tight buffer Ø 0.9 mm with a strippability of more than 150cm and one side fitted with E-2000™ connector.
| | |
| --- | --- |
| Color | red, green, blue, yellow, white, gray, brown, violet, turquoise, black orange and pink |
| Cable length | 2.5 m |
Conductor type FO

dry semi-tight buffer, strippability > 1.5m

Fiber type

Multimode (MM)

Fiber class

OM3

Fiber diameter

G50 / 125 µm

Number of connectors (A)

1

Cable type

Pigtail

Jacket material

LSZH

Cable jacket characteristics

Cable, metal-free

zero-halogen

Cable overall diameter

Ø 0.9 mm

Connector type (A)

E-2000™

Connector color (A)

beige

Lever- / frame-coding (A)

Color

Lever color (A)

turquoise/aqua

Polishing plug (A)

PC

Protection class IP (A)

IP 20

Return loss grade RL (A)

2

Attenuation grade IL (A)

Am

Connector class

connector

Standard

E-2000™ (LSH) connector acc. to IEC 61754-15 and EN 186270
Copyright ©2023 Synergia SE. All Rights Reserved!