Splice Closure CM, 50 pairs, Ø150x332, 1xOval 4xØ20 (R309088)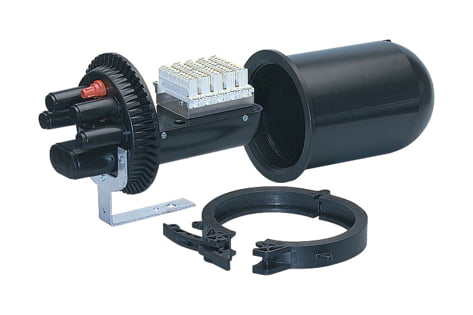 Splice Closure CM, 50 pairs, Ø150x332, 1xOval 4xØ20 (R309088)
| | |
| --- | --- |
| Dimensions | 150.0 mm x 32.0 mm / 5.906 in x 1.26 in (W x H) |
| Color Code RAL | 9005 Jet black |
| Material | plastic: HD-PE |
| | |
| --- | --- |
| Number of pairs | 50 |
| Closure with grounding | Yes |
| Closure with valve | Yes |
| Closure with wall / pole holder | Yes |
| Distributor housing type | splice closure |
| VS system | VS Compact |
Universal splice closure copper, for max. 50 pairs, type CM, as dome-end closure for the distribution of max. 50 copper pairs with R&M's VS Compact modules system, featuring amechanical locking system, module accommodation offering fully protected room for cable reserves, capacity for up to 5 x 10 pairs.
VS Compact connection or disconnection modules with grid size 20 mm. Repeated opening does not wear off the sealingmaterial, the locking system offers sealing and locking option, continuous ground connection, valve for leak testing. Closure body and flange are made of HD polyethylene, and the turnlock fastener of fiberglass-reinforced PE, resistant to alkaline earths, salt water, fungal and putrefaction bacteria, strain relief ring and splice tray holder are made of stainless steel. The splice closure canbe used in ambient temperatures of -20 to +60° Celsius and water depths of 6 meters (IP68).
Copyright ©2023 Synergia SE. All Rights Reserved!