Stranded Loose Tube Cable A-DF(ZN)2YW2Y, OM2, Eca, 6x12-fibers (R314550)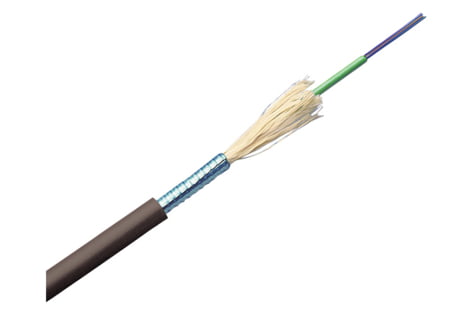 Stranded Loose Tube Cable A-DF(ZN)2YW2Y, OM2, Eca, 6x12-fibers (R314550)
The solution for installations directly in the ground in difficult environments. The cable features an inner and an outer PE sheath. The cavities between the stranded gel-filled loose tubes are filled with gel, also ensuring water tightness. Underneath the outer sheath the cable is surrounded by an 0.155 mm corrugated steel armor (ECCS).
Sheath: PE, black.
Fiber: multimode (MM) G50/125.
Technical Data
DESCRIPTION
VALUE/VALUE RANGE
Standard / norm

IEC 60794-1-2 E11

IEC 60794-1-2 E3

IEC 60794-1-2 F1

IEC 60794-1-2 E4

IEC 60794-1-2 E7

IEC 60794-1-2 E10

IEC 60794-1-22 F5B

ISO/IEC 11801:2002

Jacket material

PE

CPR classification
Fca
Cable jacket characteristics

Cable, water-tight

Armour

Steel-armored

Cable design

A-DF(ZN)2YW2Y

Fiber type

multimode (MM)

Fiber class

OM2

Conductor type

loose tube, gel-filled

Fiber diameter

G50 / 125 µm

Standard put-up length on drum
2100 m ± 5%
Mechanical Data
| DESCRIPTION | VALUE/VALUE RANGE |
| --- | --- |
| Cable length | 2000.0 m / 6562 ft |
| Color | black |
Data sheet
GOF MM Fiber, 50/125 μm (OM2)
Copyright ©2023 Synergia SE. All Rights Reserved!