Stranded Loose Tube Cable A-DF(ZN)2YW2Y, OM3, Eca, 1x12-fibers (R314552)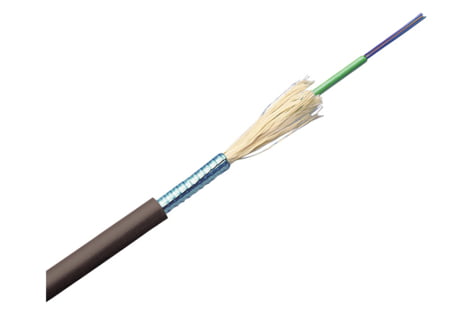 Stranded Loose Tube Cable A-DF(ZN)2YW2Y, OM3, Eca, 1x12-fibers (R314552)
The solution for installations directly in the ground in difficult environments. The cable features an inner and an outer PE sheath. The cavities between the stranded gel-filled loose tubes are filled with gel, also ensuring water tightness. Underneath the outer sheath the cable is surrounded by an 0.155 mm corrugated steel armor (ECCS).
Technical Data
DESCRIPTION
VALUE/VALUE RANGE
Standard / norm

IEC 60794-1-2 E11

IEC 60794-1-2 E3

IEC 60794-1-2 F1

IEC 60794-1-2 E4

IEC 60794-1-2 E7

IEC 60794-1-2 E10

IEC 60794-1-22 F5B

ISO/IEC 11801:2002

Jacket material

PE

CPR classification
Fca
Cable jacket characteristics

Cable, water-tight

Armour

Steel-armored

Cable overall diameter
14.5 mm
Cable design

A-DF(ZN)2YW2Y

Stranding

1 x 12 pairs

Fiber type

multimode (MM)

Fiber class

OM3

Fiber Count
12
Conductor type

loose tube, gel-filled

Fiber diameter

G50 / 125 µm

Standard put-up length on drum
2100 m ± 5%
Data sheet
GOF MM Fiber, 50/125 μm (OM3)
Copyright ©2022 Synergia SE. All Rights Reserved!