Stranded Loose Tube Cable I/A-DQ(ZN=B)H, OM2, Eca, 12x12-fibers (R314506)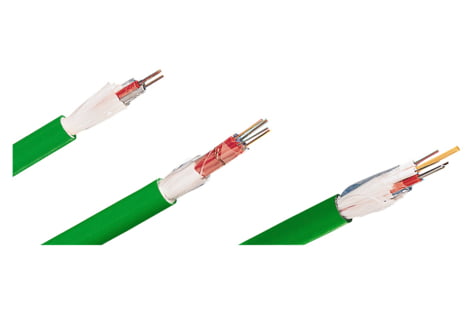 Stranded Loose Tube Cable I/A-DQ(ZN=B)H, OM2, Eca, 12x12-fibers (R314506)
The solution for high fiber-count links within buildings. The cable's compact construction of stranded gel-filled loose tubes, the blocking swelling tape for water tightness, and most of all its excellent mechanical properties make it the perfect choice.
Sheath: LSZH, green.
Fiber: multimode (MM) G50/125.
Technical Data
DESCRIPTION
VALUE/VALUE RANGE
Standard / norm

IEC 60794-1-2 E11

IEC 60794-1-2 E3

IEC 60794-1-2 F1

IEC 60332-1

IEC 60332-3C

IEC 61034

IEC 60754-2

ISO/IEC 11801:2002

Jacket material

LSZH

CPR classification
Eca
Cable jacket characteristics

Cable, metal-free

Zero-halogen

Armour

Rodent protection

Cable overall diameter
15.5 mm
Cable design

U-DQ(ZN)BH

Stranding

12 x 12 pairs

Fiber type

multimode (MM)

Fiber class

OM2

Fiber Count
144
Conductor type

loose tube, gel-filled

Fiber diameter

G50 / 125 µm

Standard put-up length on drum
2100 m ± 5%
Mechanical Data
| DESCRIPTION | VALUE/VALUE RANGE |
| --- | --- |
| Cable length | 2000.0 m / 6562 ft |
| Color | green |
Data sheet
Stranded loose tube cable LSZH: U-DQ(ZN)BH "Source code: V"
GOF MM Fiber, 50/125 μm (OM2)
Copyright ©2023 Synergia SE. All Rights Reserved!