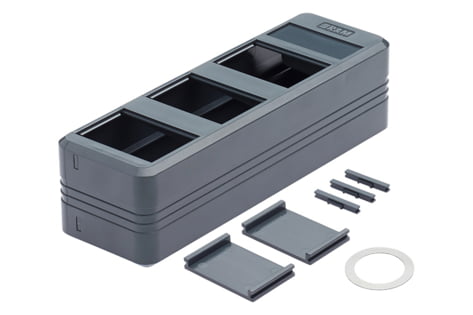 GOP-Box (R820817)
GOP-Box (Grid Outlet Positioning) acting asa telecom outlet or as a consolidation point in structured cabling environments. Suitable for open office space environments with awide range of mounting options.
| | |
| --- | --- |
| Dimensions | 215.0 mm x 60.0 mm x 67.5 mm / 8.465 in x 2.362 in x 2.657 in (W x H x D) |
| Color Code RAL | 7016 Anthracite gray |
| Material | plastic: PC + ABS |
GOP-Box made of polycarbonate (ABS) to build upcopper or optical fibre liniks according to ISO/IEC 11801 version 2.2, EN 50173-1 (DIN EN 50173-1), as well as TIA 568. The box canbe freely equipped with up to 6 RJ45 modules / LC-Duplex adapters. The box can either be mounted on any surface or it can be snapped onto a base plate. The size of the box is 215 x 67.5 x 60 mm and it has flexible inlets for M32 / M25 copex tubes. The box allows to it to be used with straight cable inlets where up to 6 single twisted pair – or optical fibre cables - with max. diameters of 9mmeach can be terminated. The different ports must have the possibility to be designated using up to 8 different colors. The designation field on the box has the dimension of 54 x 21.5 mm. The box fulfills mechanical requirements as per IEC 60670-23. The holding force is ≤ 100 [N] according to IEC 62262, while compressive stress is according to IEC 60529 ≥ 50 [N].
Copyright ©2023 Synergia SE. All Rights Reserved!